Choosing an irrigation system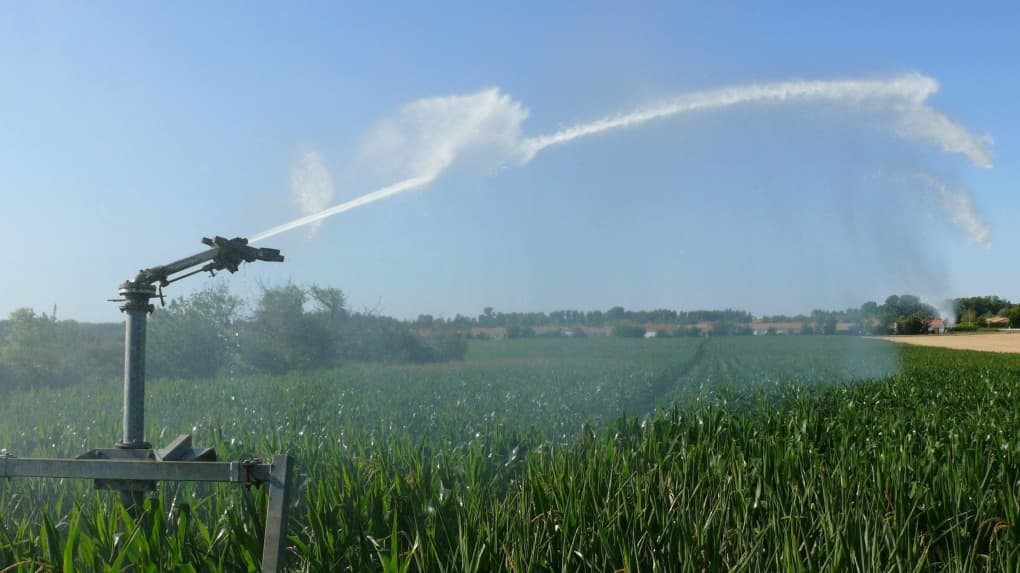 Agricultural irrigation is an important operation that consists of artificially supplying water to crops. Many crops, such as maize, wheat or potatoes, require a significant amount of water to facilitate their development and increase yields. It is therefore necessary to know the water requirements of your plants in order to provide the ideal amount. Depending on the precision you need, there are various ways to irrigate your plot, classified as surface irrigation, sprinkler irrigation and micro-irrigation.
The choice of one irrigation system over another is based on several criteria: type of crop, type of soil and  economic or environmental factors.

What are the different irrigation methods?
SURFACE IRRIGATION SYSTEMS
The surface irrigation system is a technique that uses the gravity available in a network of channels and gutters. Irrigation can be done by runoff, submersion, water cannon (using a hose reel) or by infiltration into the subsoil closest to the field to be irrigated.
Runoff irrigation
Water is supplied from ditches without being controlled. This method is comparable to unplanned irrigation. It is inexpensive in terms of equipment and time, but does not offer sufficient uniformity and savings to be fully effective. It is generally used on hilly terrain.
Plank irrigation
With the plank irrigation method, water is supplied to sloping, rectangular plots with drainage conditions. The plots are arranged in the direction of the slope. This method is interesting for soils that drain slowly. The beds are placed in the direction of the steepest slope. This technique is favoured by soils with a slow infiltration rate and therefore favoured by crops such as rice.
Furrow irrigation
This type of irrigation covers only a small part of the surface (⅕ or half the surface). Water is supplied by furrows, placed in furrows (for some crops), and can be managed quite simply. This method is suitable for crops planted in rows, such as maize. It allows for more flexibility in managing water needs.
Basin irrigation
This type of irrigation consists of the creation of ponds surrounded by dykes that allow the plot to be covered. It is interesting for soils that do not filter well, for dense crops with deep roots.
2. SPRINKLER IRRIGATION SYSTEMS
The sprinkler irrigation system consists of reproducing, with the help of water jets, an irrigation similar to that of rain. It is a perfect technique for large uniform areas. This technique uses specific irrigation equipment.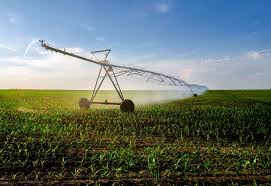 Fixed boom irrigation:
These are effective where surface methods are less effective. Several types of booms can be used with different sprinklers to suit the topography.
Mobile boom irrigation:
Mobile booms are an efficient and accurate method but are time and labour intensive. Booms can be moved manually, or side roll systems can be moved with the pipe as the axis. They are suitable for low development crops.
Frontal boom irrigation:
The front booms move parallel to each other and the sprinklers operate at the same time.
3. MICRO-IRRIGATION SYSTEMS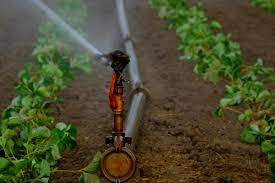 Also known as localised irrigation, micro-irrigation is done with micro-sprinklers or drip irrigation. The land to be irrigated is then criss-crossed by a network of small pipes that bring the water as close as possible to the plant. This is a water-saving system, but difficult to implement on large crops. This type of irrigation is therefore used more in market gardens or rural areas. Water is delivered slowly, with controlled frequency, pressure and flow.
Micro-sprinkler irrigation
These are mini-dispensers of water, positioned at a short distance between the plant and the sprinkler. The phenomena of evaporation and clogging are therefore very limited with this process. In addition, it allows for frost protection and greater flexibility in watering.
Drip irrigation
Water is supplied on or in the soil. It is therefore closer to the absorption system of the roots, and cannot be mobilised by weeds. The frequency of watering can be high in order to create a completely humid environment for the plant. It is a very expensive system to install and requires a lot of maintenance.
Underground drip irrigation
This involves burying the drip lines in the root system area in order to maximize the wet bulb.
Controlling your irrigation with connected weather forecasting
Irrigation is a key step to secure your crops and increase your production. At this day and age, sensors are available to help you manage and optimise your water supply.
At Sencrop, we have developed and patented a pyranometer that calculates the evapotranspiration (ETP) of your soil. In this way, Sencrop models the water stress of your plants in order to adapt your water supply to the best possible conditions. It is a real water monitoring tool, for example to anticipate the cessation of irrigation.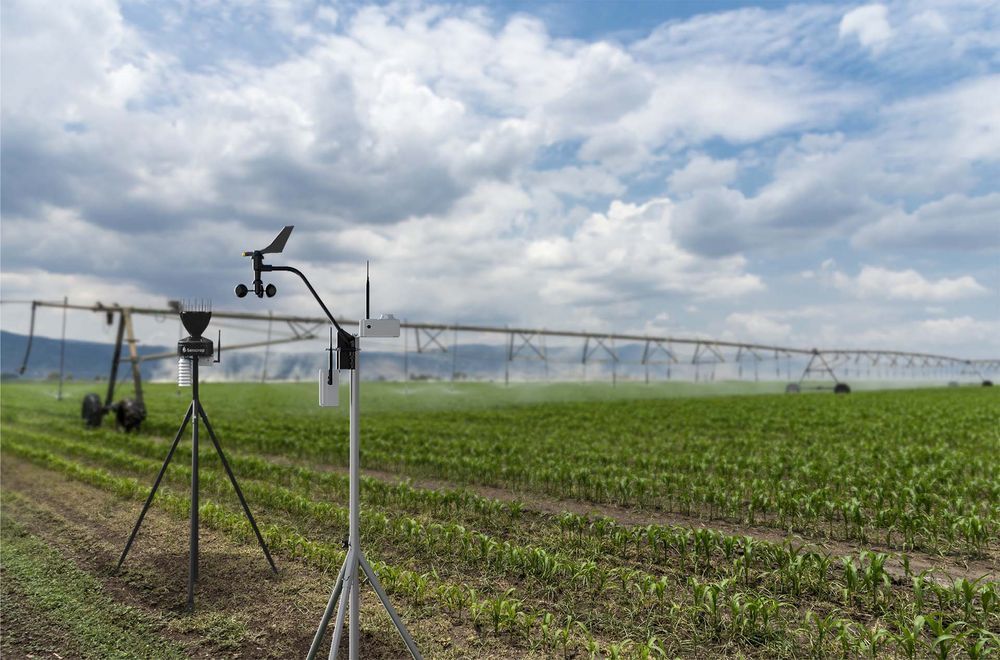 To choose the irrigation method best suited to your needs, it is necessary to be aware of the advantages and disadvantages of each system, particularly in terms of avoiding water saturation of the plants. The type of crop mainly determines which system to choose. However, the outdoor environment and the means at your disposal specify the technique to adopt.
Once your system is installed, the next step is to manage the irrigation. Today, new technologies allow you to know the quantity of water available in your soil and to monitor the water status of your crops, thanks to water balances. These innovative solutions will allow you to make savings and increase your yields.
Learn more about the weather station + pyranometer
Irricrop solution: Solarcrop irradiance sensor + Raincrop rain gauge + Windcrop anemometer + irrigation subscription
Learn more about the irrigation solution